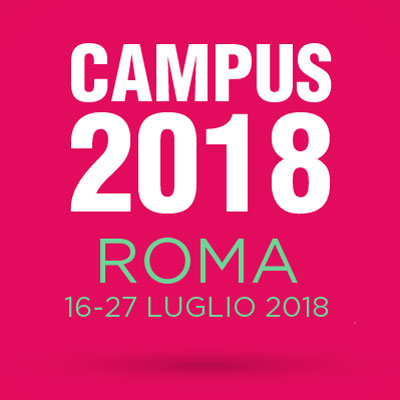 CAMPUS 2018 FIFTH EDITION
ROME , from JULY 16th (in 15th ) to July 27th (out 28th) 2018
APPLICATION FORM
The application stating motivation and acceptance of the here stated conditions are to be signed by a qualified representative of the school and returned to
Accademia Nazionale d´Arte Drammatica 'Silvio d´Amico´
Via Vincenzo Bellini , 16 00198 Roma
campus@accademiasilviodamico.it
Dead line 27 05 – 2018
www.accademiasilviodamico.it
WORKSHOPS:
1) COMMEDIA DELL´ARTE – BETRAYING TRADITION WORKSHOP ON THE USE OF MASK IN THE COMMEDIA DELL´ARTE LED BY MICHELE MONETTA, DIRECTOR, ACTOR AND TEACHER OF MIME AND MASK AT ACCADEMIA "SILVIO D´AMICO" AND BY LINA SALVATORE TRAINER FELDENKRAIS METHOD.
Teaching language: French/Italian
Students´ performing language: mother tongue, made up language
2) "HAMLET " WORKSHOP LED BY LORENZO SALVETI, DIRECTOR, ACTING AND DIRECTION TEACHER AT THE ACCADEMIA "SILVIO D´AMICO" AND JOANA ESTEBANELL MILIAN, VOCAL TRAINING TEACHER AT THE ACCADEMIA "SILVIO D´AMICO".
Teaching language: Italian/English; Students´ performing language: English or mother tongue
3) "JUST IN TIME TO BE LATE" WORKSHOP LED BY JOSEP MARIA MIRÒ, DIRECTOR AND WRITER AND BENEDETTO SICCA ACTOR AND DIRECTOR.
Teaching language: English/Italian; Students´ performing language: English or mother tongue
4) "ON THE INVISIBLE LIGHT " WORKSHOP LED BY JARED MCNEILL PERFORMER, DIRECTOR AND GIOVANNI GRECO , DIRECTOR, AUTHOR, TEACHER OF VERSE ACTING
Teaching language :English/Italian;
Students´ performing language: English or mother tongue
WHERE
– Accademia Nazionale d´Arte Drammatica "Silvio d´Amico" Rome
ADDRESS: Via Vincenzo Bellini, 16
WORKSHOP : HAMLET, JUST IN TIME TO BE LATE
– Arci Malafronte Rome- ADDRESS: Via Monti di Pietralata, 16 :
WORKSHOP: COMMEDIA DELL´ARTE – BETRAYING TRADITION
– Teatro Studio "Eleonora Duse" Rome- ADDRESS: Via Vittoria, 6
WORKSHOP: ON THE INVISIBLE LIGHT
WHEN
FROM JULY 16th (IN JULY 15th ) to JULY 27TH (OUT JULY 28TH )
ONLY  FOR THE WORKSHOP 'ON THE INVISIBLE LIGHT´:
FROM JULY 16th  (IN JULY 15th  ) to JULY 24TH   (OUT JULY 25TH )
RULES
– THE PRESENCE OF THE PARTICIPANTS IS MANDATARY FOR THE WHOLE PERIOD OF EACH WORKSHOP.
– EACH SCHOOL CAN APPLY FOR A MAXIMUM OF 5 PLACES IN TWO DIFFERENT WORKSHOPS
– EACH STUDENT CAN APPLY ONLY TO ONE WORKSHOP
– EACH STUDENT WILL INDICATE A SECOND CHOICE IN CASE OF UNAVAILABILITY OF THE FIRST CHOSEN WORKSHOP
– THE ACCADEMIA "SILVIO D´AMICO" WILL MAKE A LIST OF THE ACCEPTED STUDENTS TAKING INTO ACCOUNT THE SCHOOLS´ REQUESTS AND ACCORDING TO THE AVAILABILITY OF THE TOTAL PLACES IN EACH WORKSHOP.
– THE LIST OF THE ACCEPTED STUDENTS WILL BE COMMUNICATED NOT LATER THAN JUNE 1st .
FINANCIAL CONDITIONS:
• THE ACCADEMY PROVIDES THE TEACHING COST
• THE PARTICIPANTS OR THEIR SCHOOLS, PROVIDE ALL THE OTHER COSTS (TRAVELS TO AND FROM ROME,LOCAL TRANSPORT IN ROME , MEALS, ACCOMODATION)
IT WILL POSSIBLE TO ARRANGE ACCOMODATION WITH THE STUDENTS (COUCHSURFING)
---